This past Sunday was to supposed to be a rain out.  Not!  A little rain yesterday, and I think a few sprinkles this morning, but otherwise, no rain.  At least not yet.  With 90% chance of rain, we'll maybe see some tonight.  Next big chance for rain looks like Friday.  Temperatures holding in the 60s to 70s.  Sunday is looking like rain also.
We continue seeing two units with a level around 706 and about 6500 cfs on generation.  This is perfect if you have a boat.  Not really good for wade fishing.  Keeping the level steady for several days has really made fishing great!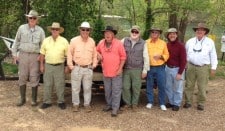 Our annual group that was originated by Dan from Texas fished with us again this past Sunday.  Most have fished with us for the past seven years…some longer and one brand new one this year.   What a day for these guys.  I call them the three corners
group as a few are from California, a couple from New York and the rest from Texas.  Guides Stan, Darrell, Dana and Jim had to deal with this bunch all day.  Top boat had
58 fish to the boat and the top fish was a 20 inch rainbow in another boat. Bugs for the day were the ruby 2 under the big ruby, root beer under a big ruby 2, the JQ streamer and the black copperhead midge under a #16 red midge or black d-ribbed midge.  As you can well imagine,
a good time was had by all.