Weather has been, and is looking very good.  This past weekend it hit the upper 60s on Saturday and was in the 60s Sunday.  Even though it is a little rainy this morning, it should hit 60 today and 70!!! tomorrow.  50s, 60s, 70s is what I am seeing in the 10-day forecast.  Yeah!
Not a whole lot of generation.  Mainly, they have continued to run 1-3 units in the mornings somewhere between 7:00 to 10:00 for 2-4 hours then shut it down for the bulk of the day.  Today, of course, is the first exception for a while.  They are running 2 then 3 units an hour each this morning, then a low 1 unit the balance of the day.
Okay, let's get caught up.
Saturday was one of those days.  Fish everywhere, great weather and a super bunch of guys.  Dana, Jim, Gina and Carolyn got to take out a group from the Tulsa/Muskogee Healing Waters chapter.  Lots of fish and lots of fun.
We caught fish on almost everything we threw.  Some of the guys were stripping the JQ streamer with and without a trailer; a few were midging with the black, P&P or ruby midges.  We even caught some late in the afternoon on the Big Ugly with a midge dropper.  They were taking the Big Ugly half the time and the midge the
other half.  Some of the guys prepared a shore lunch of tacos which really hit the spot.  However, it was tough getting a few of the fishers to stop long enough to eat!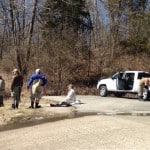 Meanwhile, amongst this flotilla, Stan had Bill and Bea, a couple of his regulars from the Kansas City area, out for half a day.  They too had a great day on the P&P and black copperhead midges.
Sunday, it was RB and Teresa's day on the river with Stan.  Nice weather and good fishing.  P&P, black copperhead and ruby midges.  RB saved his best for last.  This nice 18″ rainbow right at the ramp!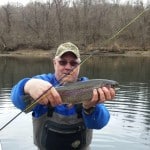 RB – 18″ Rainbow – 3/8/15