Another nice weekend of weather.  Temperatures in the 70s and it was overcast off and on.  Threat of rain, but each day it slipped by us.  Looks like a continuing trend with temperatures moving into the upper 70s Monday and low to mid 80s by Wednesday.  Right now, no rain in the forecast. 
Interesting generation pattern over the past three days.  They have been holding to about half of one generator.  It has put the tailwater level to a maximum of 704.59 feet during this period with it as low as 703.1.  The projection for Monday is more of the same, but we know about the Monday projection after the weekend.  Let's see what it is. 
Overall, fishing has been good.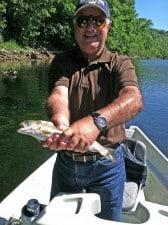 Bill and Laura from Mexico took a full day float with Stan on Thursday.  They had taken the Fly Fishing school at Dogwood Canyon and wanted to try out their new learned sport!  Good day for the two of them on the black zebra midge.  They really loved the Branson area and said they would certainly be back.  
Jim was out that day with Jim and Charlie.  They had very good day on an olive/brown gold eye sculpin, a blood worm and the rusty midge.  The Louisiana Kerrs spent all day Friday on the river with Darrell and Carolyn.  Started out a little slow in the morning, but certainly picked up in the afternoon.  Dawn started her morning out with a nice 17 inch rainbow, picked an 18 incher and finished off the afternoon with a 19 inch rainbow.   Best patterns for all of us were a white San Juan worm, cerise San Juan worm, ruby midge, black zebra midge and James Albert caught a few stripping a white wooly bugger. 
Saturday, Jim had Ron and Mike, from Springfield, Mo. out for half a day.  They had a good day on a bug-eye sculpin and a soft hackle.  Carolyn had David, from Ozark, out for half a day instructional trip.  We worked on knots, casting, bugs, more casting and eventually catching.  Best patterns for David were the ruby midge and the cerise San Juan worm.