Whew!  I worked hard today.  Had to take a break!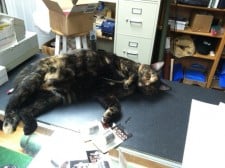 Had some pretty good rainfall Saturday and Sunday.  Table Rock went up about 6-1/2 inches and is now slowly dropping.  We are again enjoying beautiful weather.  Tomorrow looks like it will only be in the low to mid 60s and cloudy, but the rest of the week will be mid to upper 70s and mostly sunshine. 
Generation for the past seven days continues to be 24/7.  However, other than a big blip Monday afternoon and a smaller one yesterday afternoon, they have pretty well kept it at the equivalent of one generator even though many days they are running two.  This puts the tailwater level between 704 and 705 most of the time. 
Carolyn had Jim and Pat, from Indiana, on the water Monday.  Jim has done some fly fishing, and Pat was brand new.  We got lots of hits and several fish to the boat on the red San Juan worm dropped from either an egg pattern or the big ruby.  Pat got her casting down good, line work great….still needs a little work on the hook set.  But, the fish were taking very soft Monday.  I decided to indoctrinate her into the "stripper club" and she hooked this nice rainbow on a golden variant sculpin.  Yeah Pat!  Jim caught enough fish that Pat said she wasn't taking his picture any more.
Dave from Illinois spent the whole day yesterday on the river with Jim.  They had a good day on the red midge, red San Juan, peach egg pattern and a bug-eyed sculpin.  Dave's best fish of the day…..well he had two, one was a 21 inch rainbow and the other was a toothless brown aka sucker. 
 Stan had a new to fly fishing couple from California, Zeke and Jo Ann.  They had a ball.  Really enjoyed the river and outdoors as much, almost, as the fishing.  Best patterns were the red San Juan worm,  primrose & pearl midge, and the silver bullet crackleback.