Looks like we might be cooling down a little over the next few days.  Today through Wednesday looks like low to mid 90s.  By Thursday we are looking at upper 80s and chances of showers.  Believe these are slight chances.
Pretty much non-stop generation for the past week.  Only exception was early Friday when they had the water off until 5:00 or 6:00 a.m.  Table Rock Lake is now at 922.1 feet…..and dropping.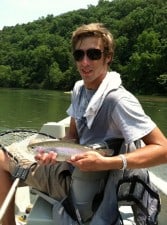 Young man from Texas, Mitch, spent Friday on the river with Stan.  Good caster and fly fisher, and loves to fish.  Had a good day on the red San Juan worm, but especially liked stripping another version of the crackleback that Stan tied up, on the sink tip line.  HOT day in the very upper 90s!