Looks like we might not cool down as much as it was indicated earlier.  Now, we are seeing mid to upper 80s through Thursday with partly sunny skies.  Chances of rain out of the forecast until Friday through Sunday with temperatures in the low to mid 80s through the weekend.
Generation has been pretty much all day, every day this past week.  Maybe 3 to 8 hours of no generation from midnight into early the next day then 2 to 4 generators running the balance of the day.  Yesterday, they never shut them down.
Darrell on the water half day Sunday with Edward and his son, William from Kansas.  Good day on the water with the red San Juan worm.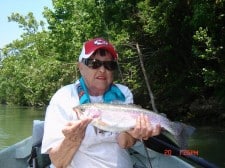 Yesterday, the birthday ladies spent half a day with Carolyn.  Wanda's birthday if 6/20 and Joanna's is 6/21.  They have celebrated almost every one of their birthdays on the water with her since 2004.   Both love to fly fish and are good fishers.  Although Joanna prefers dry fly fishing, sometimes you gotta do what you can do.  Best patterns were the red or cerise San Juan worms.   Hope it was a good birthday!