Sitting here listening to the sound of rain drops on the roof of the shop.  Doesn't look like a real heavy, set in rainfall.  I have heard everything from half an inch to two inches.  I'll go for the half inch.  Still expecting some more rain tomorrow…think the chances are 50%.  Good news, that means there is a 50% chance we will not have more rain.
At noon today, Table Rock Lake's level was 930.07 feet.  Beaver Lake is holding in the 1129 feet level and Bull Shoals has come up almost a foot from yesterday to a level of 685.63.  Flood pool for Bull Shoals is 695 feet. 
Drove to Powersite Dam yesterday to see the impact of Taneycomo on the downstream areas.  Following are a couple pictures of this area.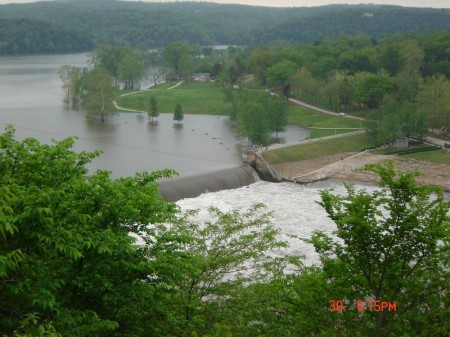 This is Powersite Dam.  Actual drop from the top of Taneycomo to the top of Bull Shoals Lake appeared to be 30 feet or so.