Looks like rain in looming in the forecast!  At this point…..looming, glooming….definitely not much difference.  Lake levels at 7:00 a.m. today have Beaver at 1129.18 with Bull Shoals at 692.62, and Table Rock 928.10.  Other than Beaver, the dams have been generating 24/7 for over a week. 
Looks like a partly sunny day today with chances of showers by 6:00 to 7:00 p.m.  Thursday is partly cloudy, mid 70s, and again chances of showers.  Friday through the weekend will be in the upper 70s to lower 80s and chances of showers.  Broken record….  Really hope the showers don't amount to much.  As we all know, the lakes are too high and it won't take much to get all of them up to flood pool, meaning more water release and more flooding!  
Fortunately, the fish really don't mind the high water.  Had three boats out yesterday and everyone had a good day.  Dana took  Bob and Bobb out for half a day.  Bob is from Texas and his friend, Bobb, is from New Mexico.  Bobb owns 1/2 mile on the Pecos River in New Mexico and said if we ever get his way, let him know and go fish!  What a deal.  Their patterns were the big ruby with the red midge dropper. 
Darrell spent half a day with Carl from Alaska.  This is the second of third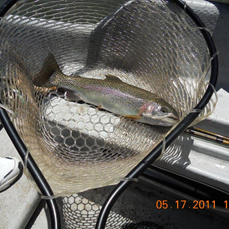 time Carl has been out with Darrell and always has a good time.  Their patterns were the cerise San Juan worm and Darrell's size 16 red midge with the white marabou tail.   No Carl, but a picture of his nice 17 inch rainbow.  Stan and Ken, from Kansas, also caught lots of fish on the cerise San Juan worm.  Ken said Stan worm him out.  Good day even with the high water.  There was little wind for a change, temperature in the 70s and NO RAIN!