Wow!  Had a few nights of single digits.  It felt pretty darn cold Wednesday morning when I got into my car and the outside temperature gauge read 7 degrees!  Must say that today felt pretty good even though it was 15 degrees when we ventured outside the house.  Did turn out to be a nice day today with sunshine all day, temperatures got into the mid 30s and very little wind.  What a difference.  We dodged the bullet on snow fall.  Little signs of it here and there but the roads were never covered and the stairs and drive in front of the store had no signs of snow by mid day on Monday.  Temperatures will continue nice, for this time of the year, mid to upper 30s tomorrow, 40s Saturday, and upper 30s to 40s both Sunday and Monday.  However, there is mention of moisture of some kind.
Generation schedule had been consistent so far this week.  On the morning around 5:00 or 6:00 a.m. until 11:00 a.m. or noon, then off for 5-6 hours.  Gets it down far enough to do some good fishing and wading.  And, it looks like that trend might continue Friday.  The projection is for the generators to go off at 11:00 a.m. with 6 hours of off time tomorrow morning/afternoon. 
One of our customers came in Tuesday afternoon, to warm up I think, and said he had had a great day up near the hatchery.  Water was off and he was fishing between outlets 1 and 2 toward the south bank.  He was fishing a Big Ugly with a primrose and pearl midge dropper.  Said it made him think of the "good old days", when you had a fish on almost every cast.  His last breakoff made him leave the water as he could not tie on another fly!  Too cold.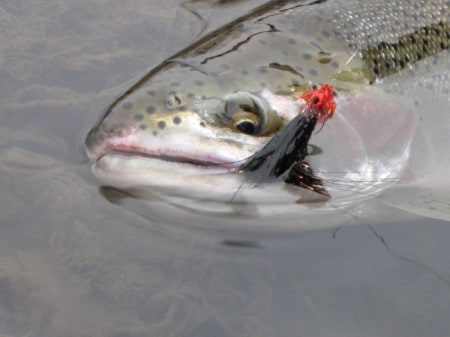 Just a reminder to mark your calendars.  March 5, 2011.  We will have John Gouker and Jim Haeck from Schmidt Outfitters in Wellston, Michigan here to do a presentation on fishing for steelhead  in Michigan.   Both have been involved in fly fishing for many years.  John is a full time, year around fly fishing guide and fly fishing instructor for Schmidt, while Jim guides some time, he spends most of his time in the shop.  Both fish the Little and Big Manistee Rivers for steelhead, trout and smallmouth bass.  They will also tie a few steelhead flies and give a demo on spey and switch rod casting.  They plan to have provide time to let interested people try their hand at these techniques.  For a chance to shake the cabin fever, get out and learn about something new and different, mark those calendars!  MARCH 5, 2011.    John is giving away a free guide trip and one night's stay at Schmidt's in a drawing of people who attend the presentation!  Better be there!  More detailed information to follow.  Stay tuned!…
Great fly tying clinic this past Saturday.  Clinic was full, so if you are thinking about coming to any of the upcoming ones, be sure to give us a call so we can put you on the list.