Wow!  What a New Year's Eve day!  Severe storms came through an area that included Oklahoma, Arkansas and Missouri very early Friday morning.  Considerable damage and fatalities in Arkansas and Missouri.  Our hearts go out to these folks for their losses.  Storms continued late into the morning and we finally got a break in the weather about 10:00 to 10:30 a.m.  The rain stopped and the clouds started thinning out.  The temperature that morning was almost 60 degrees and once the storm cleared, temperatures were in in the mid to upper 60s. 
The generation had been non-stop from 5:00 a.m. Tuesday morning until midnight New Year's eve.  Happy New Year everyone, you had no generaton new Year's Day.  It did fire up again this morning around 5:00 a.m. and they project it will be on for four hours.  So, far at 9:45 a.m., it is still running.  But, it is a very low one.  The tailwater is only 703.1.  Table Rock did come up 4/10s of a foot from the Friday rain.  Projection for Monday is generation; everything from low two to a normal two generators.
After the rains stopped and we got an all clear from the tornado watch, there were some brave souls wanting to finish up 2010 the best way…on the water.  Kristie and Rick from the St. Louis area, spent the rest of the morning and all afternoon with Stan.  They had a wonderful day on the red midge with a cerise San Juan worm dropper, and a peach egg pattern.  Darrell took Steve and Virgil from Kansas out for the remainer of the fishing day.  Steve had fished with Darrell before and decided he wanted to contaminate Virgil.  Better yet, this was a Christmas present to the two of them from their wives.  Virgil's first time and he loved it.  Their flies were the ruby midge and the red midge.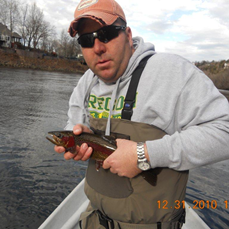 Bob and Linda, our good friends from Kansas squeezed in a couple hours with Carolyn.  We were going to all go wading, but since they were running up and down two generators, we took the boat out and had one very productive float from just below outlet 3 down to the boat ramp.  Nice fish on a UV gray scud with a pink San Juan worm dropper and a big ruby midge with the pink San Juan worm dropper. 
New Year's Day was definitely slower for most of us.  Guess it depended on where you were.  I spoke with one of our customers this morning and he said they had a great day in the gauntlet area around the big stump.  Spoke to others and they had only caught a few in several hours.  We fished for a little while (how long does it take for your fingers to freeze?…about that long).  We would catch a couple on this fly, holographic green crackleback; and a couple on another fly, etc.  Best pattern with most fish was the size 18 copper dun midge.  However, we were fishing the Rockin Chair area and below.
Just for information, the free reel deal with the purchase of an Orvis Helios or Hydros rod expired December 24, 2010.  Sorry if you missed out on this great deal.  Do still have a few great rods on sale!