Followed the generation projection Saturday with the low one generator spike in the morning and again in the afternoon. Otherwise, the water was off all day Saturday. Today, the projection was for a low one generator until early afternoon, but I can tell you that did not happen. They actually have the equivalent of one full generator, using two units. By 4:00 p.m., they should shut down the generators until midnight. Tomorrow's projection is a low one unit until 1:00 p.m. when they will start ramping with two generators and all four by 3:00 p.m.
Fishing is still rated fair to good, again, depending on where you are fishing and what you are throwing. In the early mornings, if the water is off, try a black zebra or the rusby zebra. Near the outlets, tan or brown glo balls, or gray scuds. If there is any surface activity, especially if the fog is still on the water, the small, 18-20 black thorax midge has been working. Otherwise, strip olive or black buggers.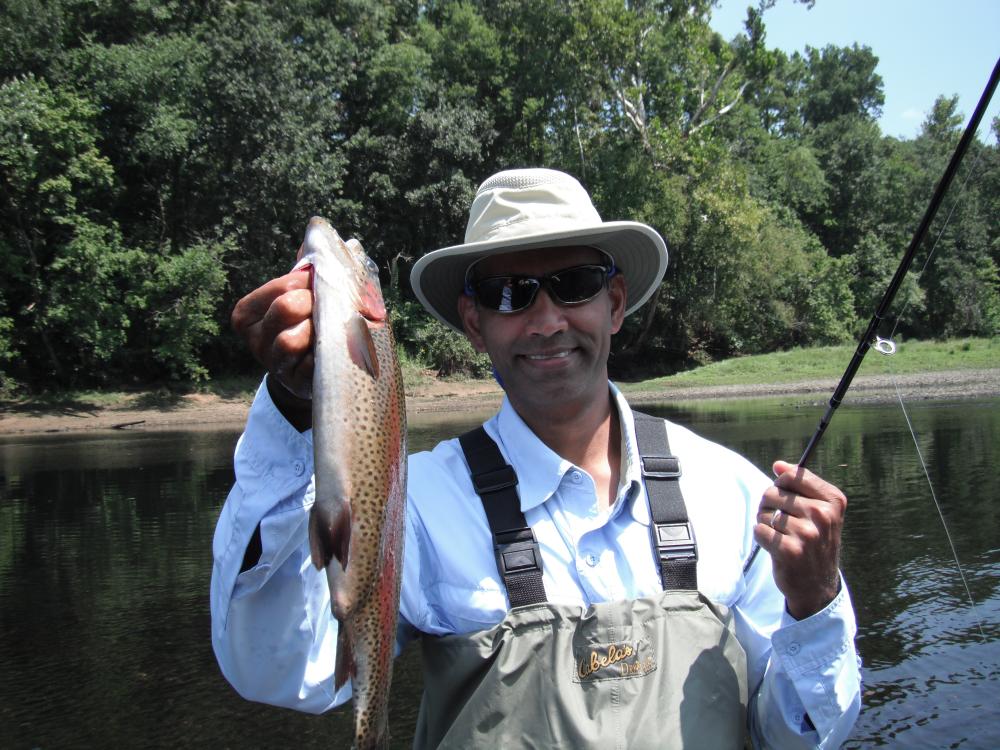 Mohammed with 19" rainbow – 8/8/10
Dana had a couple doctors from Nebraska on the water for half a day Saturday. Farhan and Mohammed loved the loved the surroundings as well as the fishing. Their best flies were the tan b-bug and size 16 dark gray sow bug. Jim was out for the morning with Norm and Chris. These two from Indiana had a good day on the black midge, blood worm and size 12 olive bugger.