Yes, as I write this, the generators at Table Rock are OFF! They followed their projection today which was no generation from midnight to 6:00 a.m. Then two generators from 6:00 a.m. to 9:00 a.m. From 9:00 a.m. to 6:00 p.m. no generation. At 6:00 p.m. they are scheduled to turn on two. Yesterday was a low two generators all day as was the day before. Nice, warm, sunny days so far this week, but we do have a chance for showers tomorrow and again on Friday, Saturday and possibly Sunday. We missed them last week, let's hope that is the case again this week.
Stan and Carolyn had a rowdy group of guys on the water Monday. Dan and Russ were with Stan, and Jim and Rich were brave enough to go out with Carolyn in her "Cackelcraft". Little slow start in the morning on midges, but once we switched over to the sinking line with an olive bug-eyed bugger, the action certainly picked up. Great day on the water. The overcast sky gave way to a nice balmy, sunny day. Continued catching fish throughout the run on either the bugger or the red tungsten beadhead midge.
| | |
| --- | --- |
| | |
| Rich – 4/19/10 | Jim – 4/19/10 |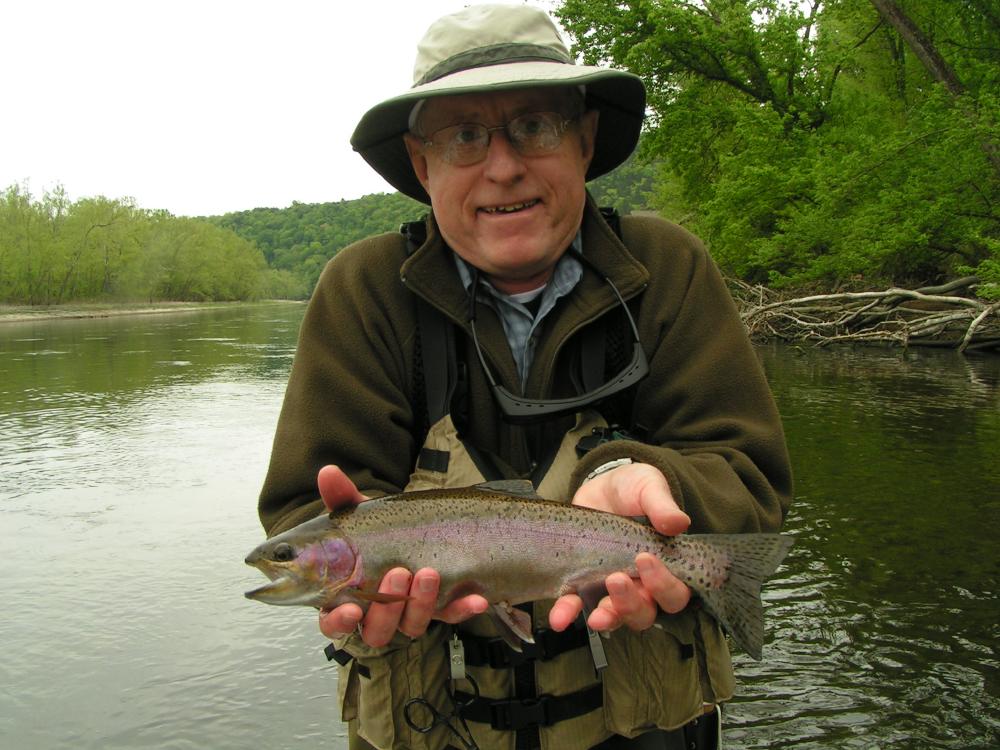 Meredith – 4/19/10
Meredith, from Indiana, was on the water with Dana all day. They had a wonderful day on the red midge, peach egg and #12 bug-eyed bugger. When they got back to the shop, Meredith had to have a picture with Dana. Said he "wanted to have a picture with the guy who gave him his best day ever on the water!"
Carolyn out for half day instructional trip with Sharon from here in Missouri. We started out work on the roll cast, moved on to the pick up and lay down cast. with a little more practice, she will have a very nice cast. We got on the water while it was still dropping. Learned a couple knots, and she tied on the red midge. We caught a few fish on this, but it certainly was not fast and furious. About noon, the water was just about at normal tailwater level and the fish were coming up everywhere. so, how about a holographic green crackleback? She tied on one of these and we actually checked once to see if we were missing a fly when we did not get a hit or fish after stripping through them with no results.