No flood gates, but 24/7 on four generators. So far, we have not seen an impact from the rain we had Friday night. Table Rock now sits at 916.6 feet and the four generators are keeping Taneycomo a little above 710.0 feet. At least the weather is nice. Friday was overcast, but warm and a bit of a breeze. Saturday was sunny and fairly calm most of the day. For Easter Sunday, we have a bright sunny day with just a little wind. They are forecasting some rain later on today into tomorrow then back to the nice weather.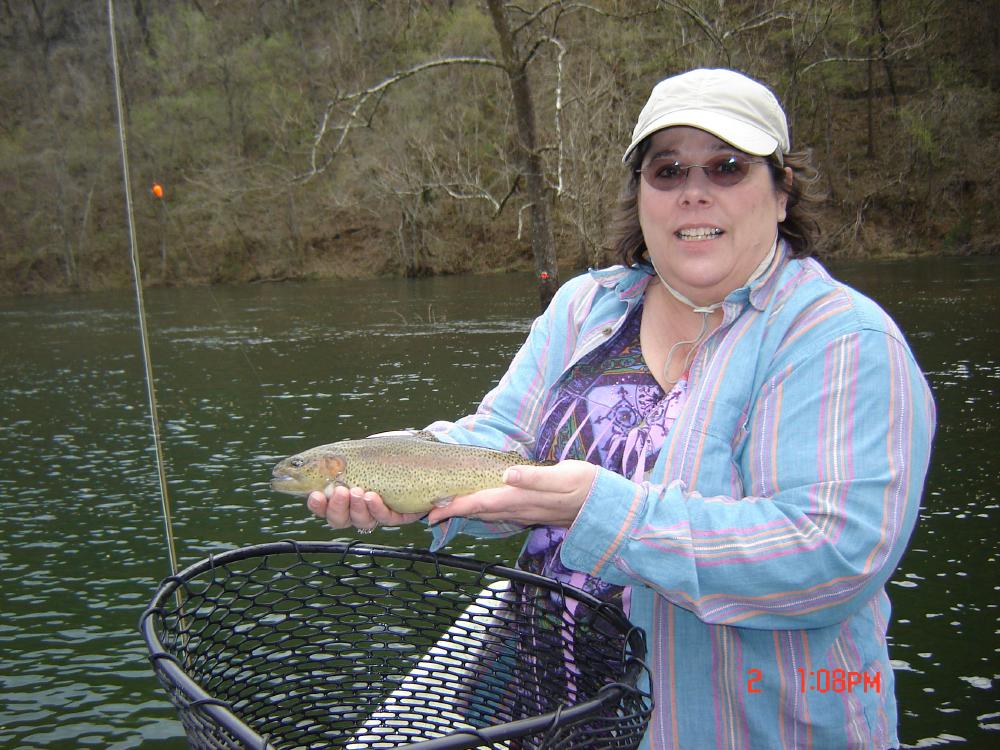 Diana – 4/2/10
We have another fly fisher on the loose. Friday, Carolyn took Diana out for almost a full day float. We bailed out early due to the rain coming through. Diana has been reading, watching and listening to everything she can find on fly fishing. Friday was "baptism by fire". Not only did she learn to manage her fly line, she learned how to do it in fast, water with some mean wind gust. We worked on roll casting, regular casting, line management, rigging, mending, and "set" all day. She landed several fish and really enjoyed the day, plus I saw some pretty nice casts before the day was over. Best flies were the big ruby with the pink San Juan dropper and, yes, we added her to our "stripper" club. She caught some strippipng the holographic green crackleback and the olive filoplume. Next day she said she could hear "set" in her dreams all night. Bob from Louisiana, took one more full day with us and spent his last day with Jim. They had another good day on the red midge.
Saturday, Stan took Kevin from Oklahoma out for a 1/2 day of learning. Kevin decided it was time to learn how to fly fish. He spent a good morning on the river catching and learning. His father, Jim, went along to take pictures. Jim even decided he might like to learn how to fly fish after spending time on the water watching Kevin. Although they caught several on the red midge, Kevin really liked fishing and catching on the holographic green crackleback on the sink tip. Jim had Jim, from Arkansas out in the morning. Jim has been fishing for a while and they had a very good day on the red midge with either a #18 black midge or orange San Juan dropper.
Almost forgot to mention that some of our customers have advised that the white bass are running well in the James River near Galena. What fun on a fly rod!