Don't get too excited, but the generators were off from midnight until 6:00 a.m. this morning. Otherwise, they have been running two generators the past two days with the tailwater level fluctuating between 705 and 704 feet. Yesterday, it stayed at 704.7 from about noon until they turned them off at midnight. So far today, once they started up, the level has been around 704.7. Weather is great…in a word. We are expecting some showers late this afternoon which will cool us down a little. More back to seasonal temperatures instread of the 70s and 80s we have been having.
Stan on the water all day Wednesday with Jack from Colorado. Said he came out to check on how one could fly fish in Missouri! Jack has been fly fishing for some time and is good fisher. He was very impressed with our fishery. He had a very good day on the big Ruby with the #18 ruby dropper. Got to throw a sink tip line and work some wooly buggers, which he really liked. Caught lots of fish on this too.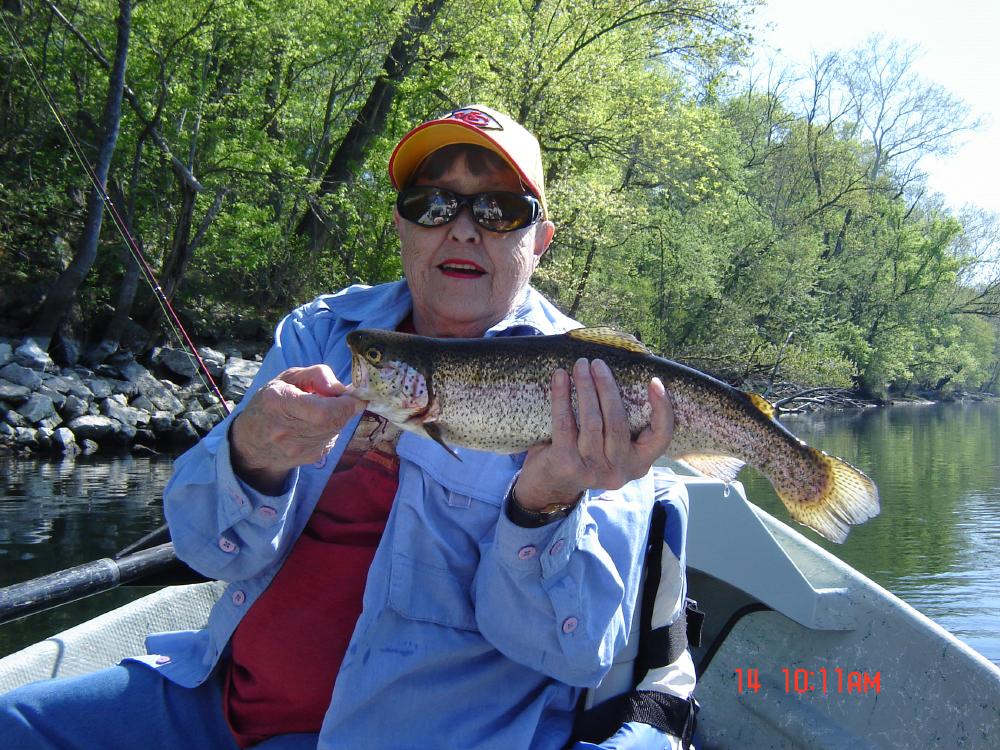 Wanda – 4/14/10
Carolyn had Wanda and Joanna out for half a day. They both needed an "attitude adjustment". Neither had been on the water for months! The first fish on made it better, but it just kept improving all morning and into the early afternoon. We had a wonderful day on the rubys and the holographic green crackleback. Attitudes adjusted until the next time!
Jim had a half day with Barry and Susan from Washington. Barry went to catch fish and he did on the red and black midges. Susan went along for the boat ride and thoroughly enjoyed the day…as did Barry! Beautiful day on the water.
Carolyn on the water all day Thursday with a couple guys she had out last year. Mark is from Pennsylvania and Rich is a displaced New Jersey guy who now lives in Kansas. They could not believe the difference in the water conditions from what they experienced last year. We had extremely high water and high winds when they were here before. This year they saw places that were previously under water. Got off to a little slow start in the morning, but certainly made up for it before and after lunch. Almost had to drag Rich away kicking and screaming for just one more cast! Good day for these guys, especially on the golden variant sculpin, olive filoflume, and olive bug-eyed bugger. Also caught some on the big ruby with the #18 ruby dropper, but stripping streamer patterns using the intermediate sink leader was our most productive method. Think we'll see them again next year when this group has their annual gathering and fishing tournament.
| | |
| --- | --- |
| | |
| Rich – 4/16/10 | Mark – 4/16/10 |
Neil is a local. He lives in Reeds Spring. Said he wanted to get back into fly fishing, improve, and learn a few more things. Spent half a day on the water with Stan yesterday. Didn't take long for him to get back in to fly fishing. Had a good day on the ruby midge combo, stripping an olive wooly bugger, and even caught a few on a black, size 19 soft hackle. What a blast. Had a great day and accomplished everything he want to.