Four flood gates still going as well as three generators. Table Rock is now at 917.8 and the tailwater is in the 710. plus range. Have heard various scenarios on when the flood gates will be shut down. One is that they will shut down when Table Rock reached 917.0 feet. Another was the date of April 1 (April Fool's Day?) We shall see.
Let's get caught up. Friday, Jim was out with Mike and Larry from Arkansas. Of course they were fishing high water with the 2-fly setup, red ruby midge on top with a pink San Juan dropper. Boated several fish in their half day outting.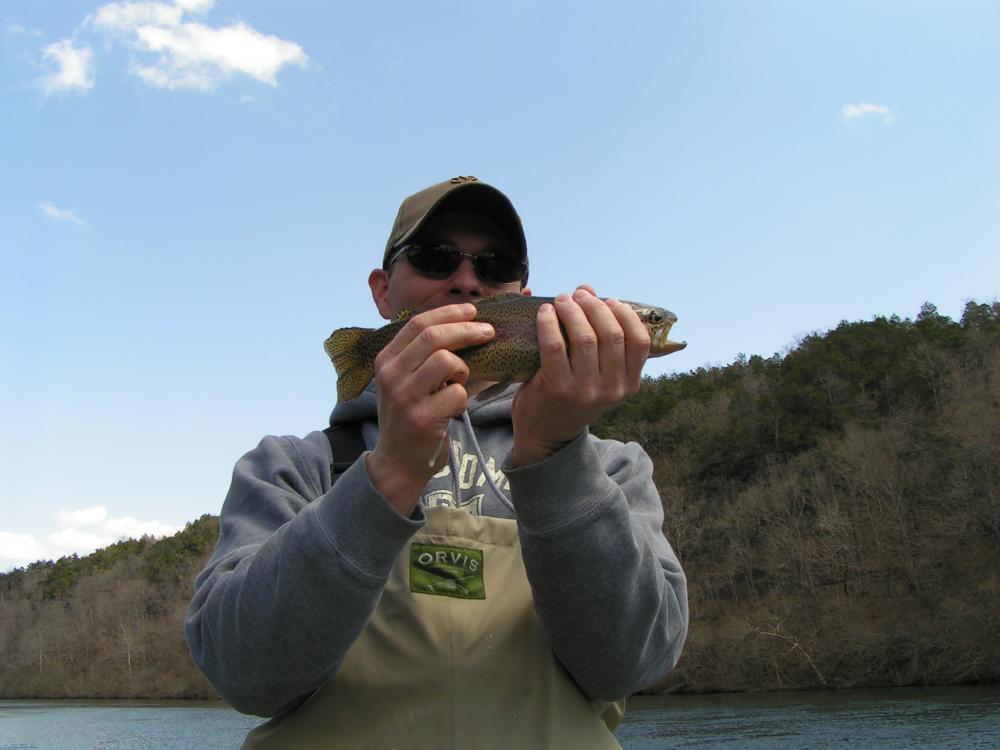 Sam – 3/27/10
Saturday, Dana had a repeat from last summer, Ben from here in Missouri. His wife, Melissa, fished with him last time but is expecting a baby boy in June so she could not join him. So, he brought his friend, Sam, to give him a first experience at fly fishing. Tough day with the high water for a new fly fisher, but Sam did it. Caught his first fish on a fly rod using a pink midge.
Sunday was a wild day on the water. A whole bunch of guys from various Orvis locations decided they needed to test the Taneycomo floodwater (aka tailwater) fishery. Jim, Stan and Carolyn loaded them up in the drift boats and off we went. Lots of catching, missing and badgering back and forth. We threw everything. Holographic green crackleback on the sinking leader, big Ruby with the pink San Juan dropper, black zebra midge, are a few or the regulars that come to mind.
Monday, Gina helped John and Barbara, from Wisconsin, celebrate their 35th wedding anniversary. Not only did he give her a beautiful new ring, he booked a cruise on Taneycomo for the two of them! What a guy! This was Barbara's first time fly fishing. Quick learner. Had the roll cast under control in no time and quickly got the hang of casting the sinking leader. Barbara's cap read "get er done" and she did just that. Hooked and landed her first trout on a fly rod. Fished the pink San Juan and an olive wooly bugger. Congratulations guys! Stan was out half a day with Scott and his friend, Fred. These guys are from Illinois and it was Fred's first time fly fishing. They had a wonderful sunny day, along with a good day on the water. Best flies were the size 18 black midge under the big Ruby.
Brandy – 3/30/10
Carolyn helped Dad, Jerry, introduce his daughter, Brandy, to combat fly fishing (high water and lots of gusty wind). Quick learner. Had the roll cast down in nothing flat, as well as mending. And best of all, hook setting and playing in the fish. Brandy caught fish on both a size 18 black zebra midge dropped below the big Ruby and the holographic green crackleback on a sinkling leader. She is off to a great start and even out fished Dad. Oops! Jim had Chris, from his home state, Michigan out for 1/2 a day float. His wife, Marsha, went along to enjoy our river and the nice day. They had a good day on the red midge, with the orange San Juan worm dropper, and the olive bug-eyed bugger working the long seams.