I give up. They continue to generate at least two generators and the Table Rock level is now at 913.2 feet. Not too great for getting out and fishing this past week into Saturday as it was pretty cold, or wet, or windy! After today, it will warm up a little and all we can do is keep watching and hoping that they shut off the generation some time soon.
Dana and one of his clients, Marshall, from Oklahoma, braved the (supposed to be nice) cold, drizzly day Saturday. It was fairly slow pickin' that day but they did boat some fish on the pink San Juan, the red San Juan and a brown scud. Some of our regular customers were also on the water and they had a hard time finding many fish.
"Happy Hooker", "The Stripper" and "Trout Mum"
We did make a rebound on Sunday. If you thought Mrs. Claus was on the water Sunday, it was three crazy women out chasing trout. They did wish they had some rain deer to pull the drift boat so they could fish more instead of rowing. Trout Mum hooked up first on a red midge. Beautifully colored, nice Rainbow. We proceeded to catch fish on red midges, pink or orange San Juan worms as well as the chamois worm (got it right that time!) and really had a fun day. Stan was out with friends, Bob and Linda from Kansas. They caught fish on all of the above plus a black wooly bugger. Dawn's son, James Albert and significant other, Albert, were at Lookout Island catching fish, also on all of the above. I believe James Albert even caught a few on a dry.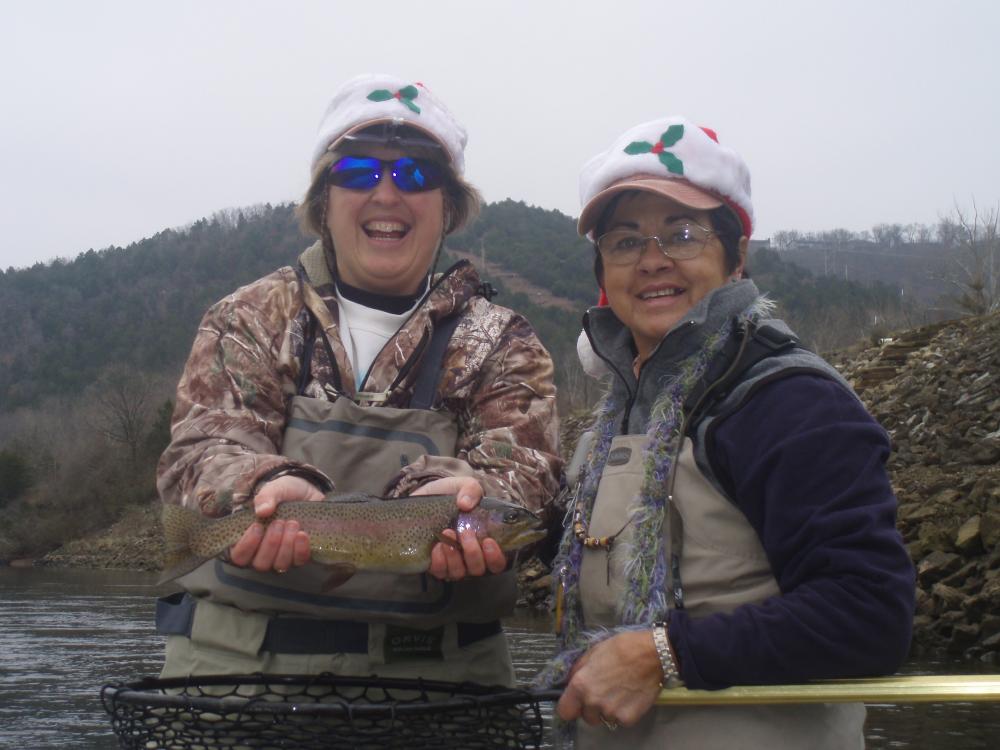 Nice 17 incher!
Gina and Carolyn finished up the day at the gravel bar above Fall Creek stripping the holographic green crackleback. The day started out a bit cold and nippy but ended on a perfect note!