WE WILL BE CLOSED AT 3:00 P.M. ON WEDNESDAY, 11/25 AND ALL DAY THURSDAY – THANKSGIVING, 11/26 SEE YOU FRIDAY AFTER THANKSGIVING! HAVE A WONDERFUL TURKEY DAY!
Currently they are running one generator with the level at tailwater below the dam staying pretty steady at 703.9 feet. They are projecting this flow for the entire day while they are working on the boards at Powersite Dam. Won't know what they "plan" to do tomorrow until late this afternoon. Sun is shining and the temps are supposed to be in the lower 60s.
Everyone we passed as we were rowing upstream yesterday had a smile on their face. Even commented to a couple gentlemen about how happy they looked and their responses were pretty much, "yes, it has been a while since we have been able to fish!" Our Louisiana family, Dawn, Albert and James Albert were out with Darrell and Carolyn all day. Other than some hefty breezes off and on during the day, it was wonderful. Warm sunshine, water off but a good flow, AND the fish were happy. Everyone had a great day catching lots of fish on almost everything. Of course, Dawn, aka "The Stripper" was throwing olive wooly buggers and the olive filoplume, with the filoplume working the best of these two. Early in the day, she got her first experience throwing soft hackles. Fish were coming up pretty good in the shallow areas, so after catching a few midges in our caps, opted to throw a size 18 black soft hackle. Sure enough, she hooked and brought in her first Rainbow on the soft hackle. Meanwhile, Darrell, Albert and James Albert were up in the Rockin Chair area catching fish on the white grub and the ruby midge. After enough wind in the upper area, Carolyn and Dawn rowed down to the now Trophy Run area and settled down stripping the bugger and filoplume. Fish were wanting both stripped real slow using the intermediate sinking leader. Darrell and the guys rowed down to the old KOA narrows area and homesteaded. They spent the balance of the afternoon there catching fish on the ruby midge with a copper dun midge dropper. Dawn and Carolyn rowed back up there and fished and caught on the ruby midge for a while. Fish were really working the edges, so James Albert started wading the banks and caught a nice 22" Rainbow on one of his sculpin patterns. Happy guy! Just a little before we decided it was leaving time, Carolyn put a chain-eye pine squirrel scuplin back on Dawn's line so she could finish her day stripping. Eight casts, eight fish. What a way to end the day. Almost all the fish we caught throughout the day were nice and running in the 14 to 17 inch range. Most looked very healthy, good girths and great color. One of those days to put in your memory bank!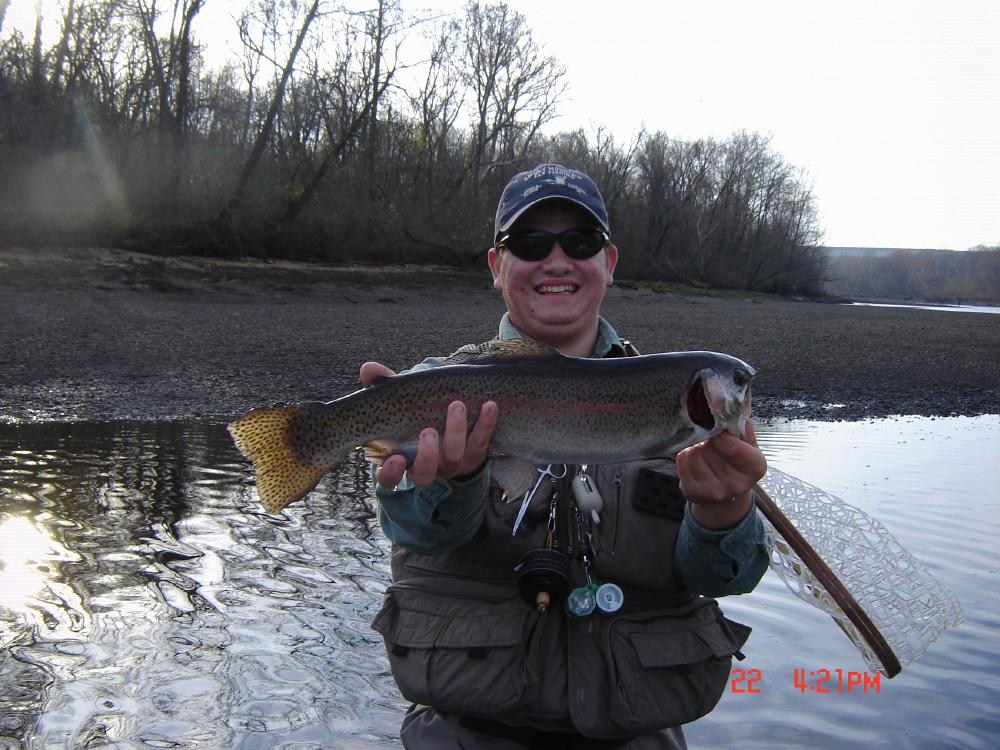 James Albert – 11/22/09