Thought we might be going back to an earlier generation pattern of off in the a.m. until noon or later, then on for the balance of the day when we had water off Monday until almost noon and yesterday it did not come on until around 10:00 a.m. But, alas, water came on this morning at 4:00 a.m. Projection is for it to be equivalent of one generator all day, but know they are running a little more than than…three generators at a leavel of 705.9. Looking for some rain this afternoon which could be severe. Rest of the week and into the weekend looks pretty good. Next chance of rain is Monday with temps in the low 70s.
Monday was a good day on the water. Jim had Mike from the Branson area out for half a day. Mike had previously taken the Orvis Fly Fishing School and wanted some fine tuning. He had a great day of learning and hooking up with fish. Their patterns were the size 14 Miracle Scud, micro San Juan and stripping a small sculpin. Stan was out all day with one of his regulars from Illinois, Robert. He always trys to come here this time of the year. Beautiful 19" rainbow on the ruby midge. Lots of nice fish. Carolyn had Wanda and Joanna floating for half a day. Spur of the moment trip for them. They were at a car dealership buying a new Buick and the salesman was talking about catching fish in Taneycomo. Think they called from the dealership and said "We need to go fishing!" Joanna brought in a beautiful 19" Rainbow and Wanda had a nice 17" one. Good day on the larger ruby midge.
| | |
| --- | --- |
| | |
| Joanna's fish – 9/28/09 | Wanda – 9/28/09 |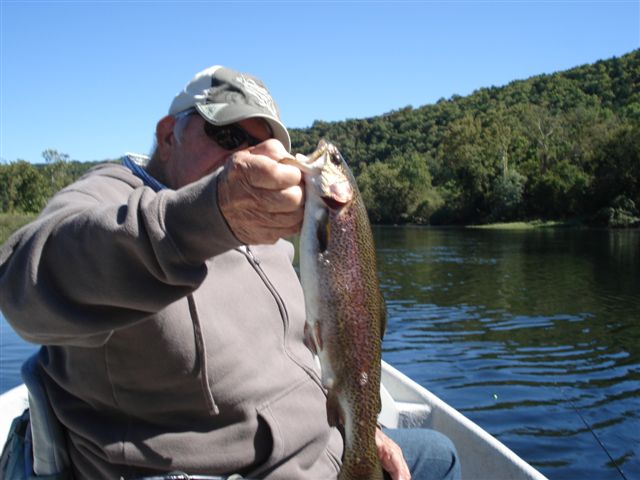 James – 9/29/09
Tuesday Darrell had Leroy and his father-in-law, James out for half day. They are from Oklahoma and Leroy fishes here quite a bit. James is 82 and this was his first experience fly fishing. It was not as intimidating as he thought it was going to be and he had a good time. Their best flies were the Ruby and P&P midges.
Stan had Jerry and "Dr. John" out for half a day. They come here from Tennessee. Good day for them on the P&P, Burgundy and Ruby midges. Jerry caught a 20" Rainbow then a couple fish later, an 18" Rainbow. They like our fishery!