With the rain that blew in, and I mean blew in, Monday, the weather has been very pleasant. Days are in the mid to upper 80s and supposed to go back into the 90s over the weekend. Mornings have been very foggy on the river and it has been hanging around until 9:00 a.m. or better. Generation has been pretty much according to the projections; starting as early as noon, but generally 1:00 p.m. or an hour or two later and running until 8:00 or 9:00 p.m.
Monday Carolyn was on the water again with Nicole and her grandfather Jim from Arkansas. Nicole is now 12 and loves to fly fish. We had a fun half day catching fish on the Primrose & Pearl midge and a holographic red midge that we have been playing with for a while. Not sure yet if it is going to be a regular pattern, but it certainly did the job on Monday. She did a great job of playing and bringing in her fish on the 7X tippet. Had Jim on a 6X tippet and he caught almost as many fish as Nicole so I don't think the tippet size was a major factor that day. Certainly has been on other days. Catching was slow in the early part of the morning with the fog on the water.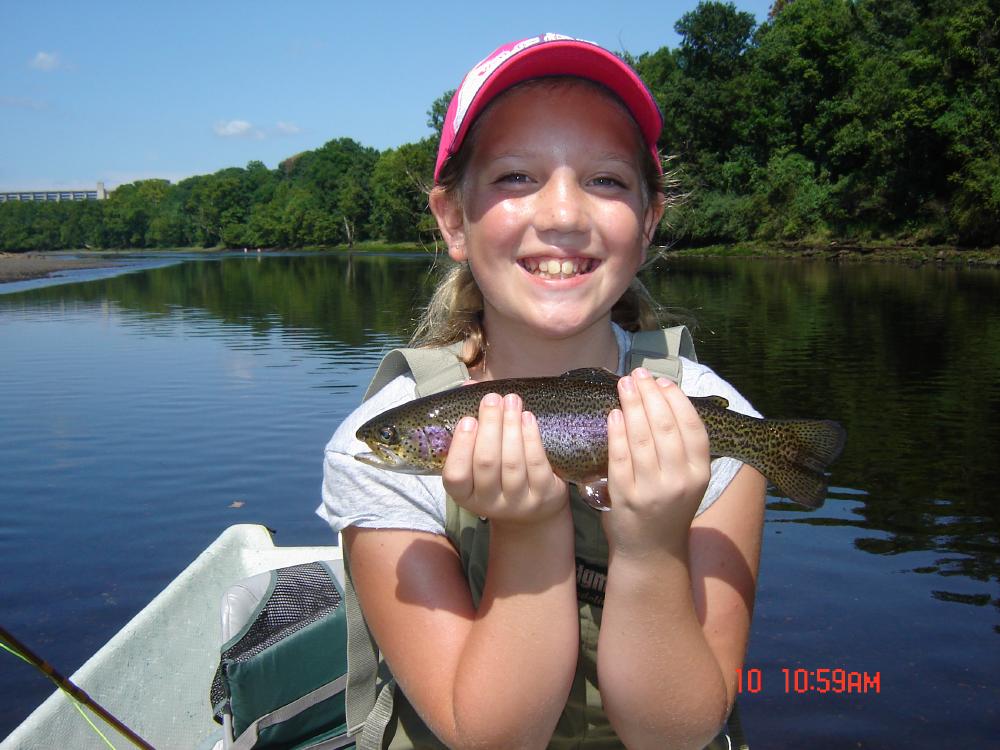 Nicole – 8/10/09
Which is larger? Her smile or the fish?!
Tuesday, Dana had Kelly and Ann from Oklahoma out for their first try at fly fishing. They had so much fun, they called and booked another trip for today. They are on the water again today for half day to catch some more fish. Their best patterns yesterday were the copper dun, size 18 midge and a red San Juan worm. Stan, Darrell, and Jim were all on the water for a full day with a family from Texas. At least most of them are from Texas. Believe Layne is from Washington. Stan had Layne and Joe, Jim had Larry, and Darrell had Josh and Ryan. Pretty foggy when they got on the water, but the fish were coming up so Darrell and Stan started their groups out with dries. The Big Ugly with a size 14 Hi-Vis Beatle seemed to hit the spot. Once they stopped hitting these, they used the Big Ugly for an indicator and hooked fish on the red or black size 18 midges. With the water rise after lunch, it was the red midge and red San Juan worm.