We continue to see the water off each morning so you can get out there and wade until 1:00 to 2:00 p.m. during the week, and most all day on the weekends. Bad news is the weather is starting to warm up again….into the 90s.
Little behind in my updates. Been busy! Friday Dana had David from Louisiana out for a full day drift. Hooked several fish on the rusty midge, olive/brown scud and an olive wooly bugger. Jim had one of his regulars, Pat from Oklahoma on the water for half a day. They did well on the P&P midge, blood worm and a size 18 gray scud. Takes were soft and they missed and lost a lot of fish too.
Saturday, Dana back on the water with Steve and Anne Marie from Missouri. They had a fun day on the black and rusty midges and the crackleback. Anne Marie is fairly new to fly fishing and was definitely holding her own on catching fish. Meanwhile, Jim, Stan, Darrell, and Carolyn had a bunch of guys from all over who were together for a wedding taking place in the afternoon. What a party we had before the wedding. Most of the guys were not fly fishers, so we started with the basics….got them roll casting, mending and hooking up with a few fish before our short morning was over. Had to get them all out of the water early so they would not be late for the wedding. Our best fly was the rusty midge. One of the guys did hook a few on the holographic green crackleback.
| | |
| --- | --- |
| | |
| Justin – 7/4/09 | Mike (Best Man) – 7/4/09 |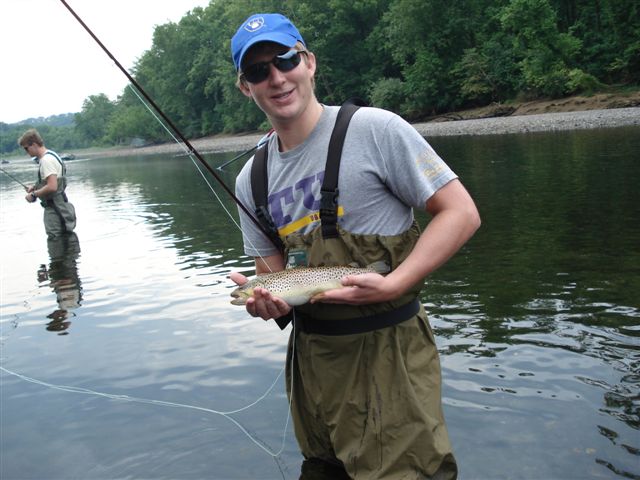 John – 7/4/09
Monday Jim had Maynard from Ballwin out for half day. Maynard fishes here every summer, but had never taken a trip with us. Fished a bit slow at the low water, but picked up considerably on the rise with scuds at Lookout Pointe. Also fished the copper dun, miracle scud and size 10 Bug-eyed bugger. Maynard was very happy with his trip, especially the 17 inch Rainbow they boated. Carolyn had a new young man on the water, Connor, who wanted to learn how to fly fish. Started him out with the basics too, the roll case, mending, line management, hook set and playing a fish. We went out again Tuesday morning and all his skills were looking pretty good. Hooked a few fish on the P&P midge and a peach colored egg pattern. Connor's techniques are looking good but his attention to the indicator instead of all the fish in the river need a little polishing up! This too will improve….nice young man!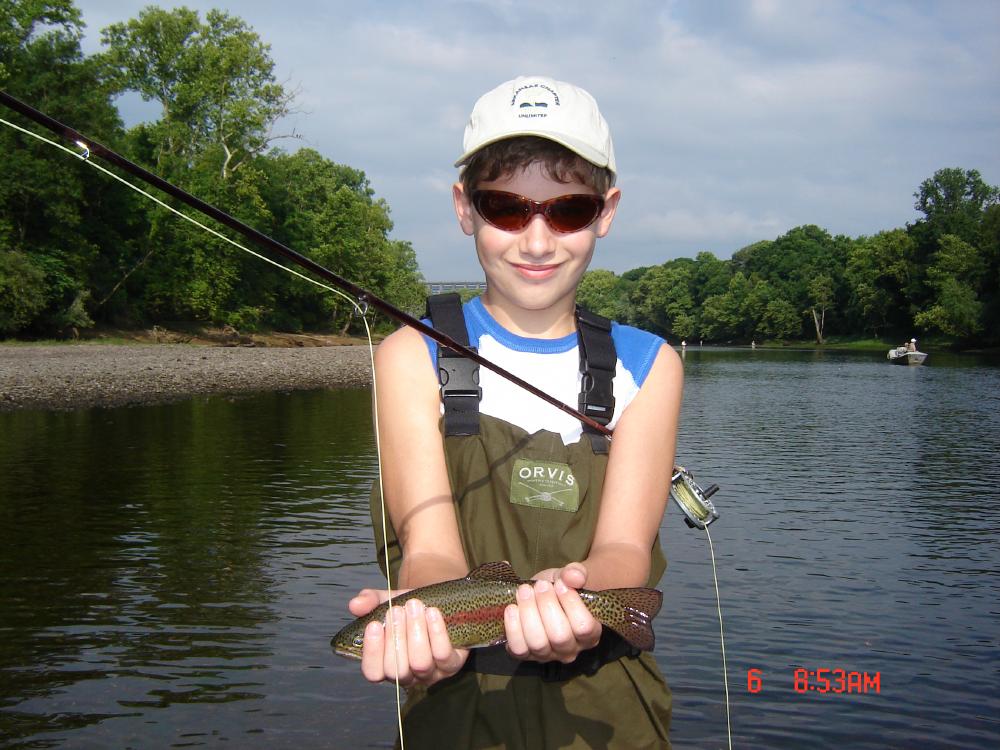 Connor – 7/6/09