What a gorgeous weekend. BUT, they ran water almost all day both Saturday and Sunday. Projection for Monday is water off until noon, when they will start out with two generators and ramp up to all four. May get some wade time this morning.
Stan and Darrell had a group on the water Friday. Duane, David, Caleb and Randy, from North Carolina, were all new to fly fishing. Got off to a slow start in the morning with the water low, but that was okay as they needed to learn the basics. Once the water came on, so did the fish. Boated fish on the miracle scud, red San Juan and the red midge.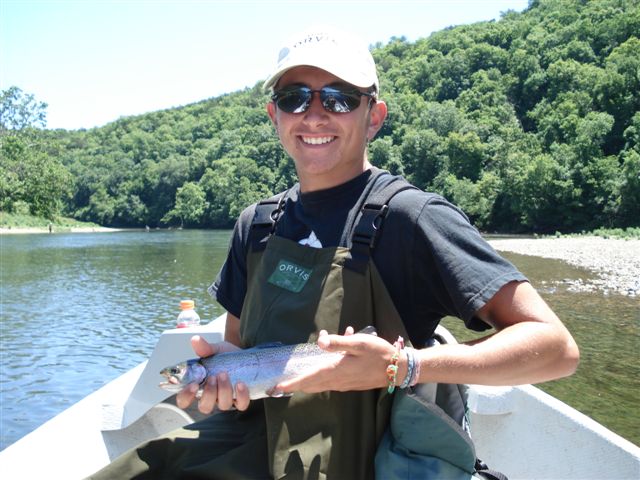 Duane – 7/17/09
Saturday Darrell was out with Don and Linda from Salem, MO. This was a refresher trip for Don as he is getting back into fly fishing since he plans to retire in 17 months…but who is counting…and wanted to start fly fishing again. And he is going to do it all, as he bought everything he needed to tie all the flies he fished plus some when they came back to the shop. Most productive flies were the red midge and pink San Juan worm as the water had come on.
| | |
| --- | --- |
| | |
| Linda, really – 7/18/09 | Don – 7/18/09 |
Linda, Darrell apologizes for cutting off your head. He is a better guide than photographer!
Sunday was a floatilla. Jim, Darrell and Dana had a group of five guys and one gal. Several of them are professional golfers and they were in town playing golf and having a good time. Darin, Julie, Mitchell, Jade, Doyle, and John tried their hand at fly fishing. A few of them had tried it before, but most were new to the sport. With the water off for a little while in the morning, they were able to get out and wade a little, learned a lot and caught some fish. Darrell's boat did best on the holographic green crackleback and gray scud. Dana's guys caught them on the red San Juan worm, and Jim's group used the miracle scud, gray scud and bug-eyed bugger. Gina was also on the water. She had Brad and Dalton from Louisiana. This was Dalton's first time fly fishing and he's a quick learner. Their best patterns were the black wooly bugger and olive/brown scud. Caught fish, but it was a bit slow, especially in the morning.