They pretty well followed the projected generation schedule over the weekend. Water on for 1-2 hours late in the day, they off the remainder. We also had the water off Friday until 1:00 p.m. which made for a great half day outting on the water.
Saturday fishing was very good. Darrell had Mark from St. Louis out for half a day. They did well on the P&P and Copper Dun midges.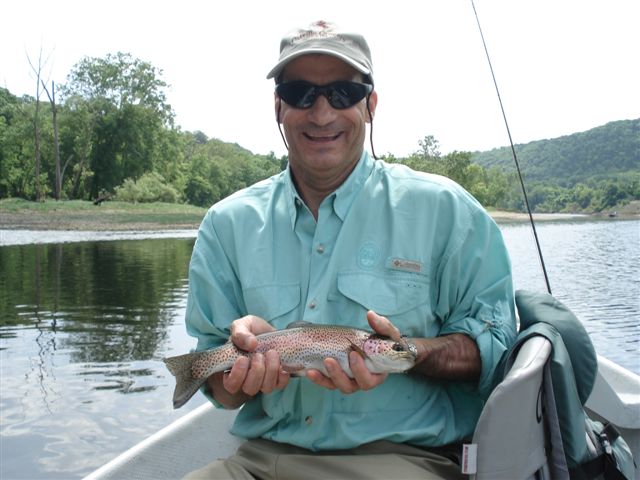 Mark – 6/20/09
Stan was out with friends of ours, Bob and Linda, from Olathe, Kansas. They got a late morning start and came off early, but caught lots of fish, also on the P&P and Copper Dun midges. Carolyn was out playing. She got an even later start but caught fish on the size 10 black wooly bugger on the sink tip at the rock bank by the Trophy Run area. Also had a fun day on blondie and holographic green cracklebacks stripping just benead the surface. Even caught a few dry that way! Some of our customers call me from the Lookout Island and they were having a bang up day stripping the blondie crackleback. Dawn said her arm was worn out!
Sunday continued to fish well for Jim who had one of his regulars, Scott from St. Joseph, on the water. They worked a size 20 emerger and a size 12 bug-eye bugger. He thinks the emerger worked the best. Darrell had Ron and his son Samuel out for 1/2 day. Wonderful day on the olive wooly buggers and P&P.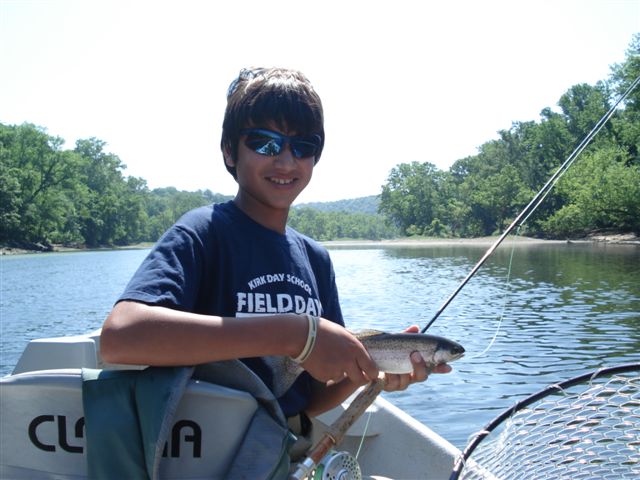 Samuel – 6/21/09