We can complain about the weather, but not the fishing! Other than Tuesday during the week, generation has started at 2:00 p.m. each day and gone off around midnight. Tuesday it came on at 1:00 p.m. Saturday and the projection for today is generation for a couple hours starting around 4:00 p.m.
Stan on the water for 1/2 a day Thursday with Mark from O'Fallon, Missouri. Good fisher and caught fish mainly on the Primrose & Pearl midge.
Friday Stuart from Arkansas used his Father's Day present…..a full day float with Stan. Worked on hook setting and landed fish on the Primrose & Pearl midge. Another HOT DAY! Dana introduced Terry and her son Tristan from California to fly fishing on Friday. Hot day, so they did a lot of wading. They caught a few fish, stayed cool and learned a lot about fly fishing. Carolyn had Dick and Marie from Ohio on the water again. They had been out with Gina on Tuesday. Still needed to catch some more fish, so they did it again. Boated lots of fish on the holographic green crackleback, P&P midge and the black wooly bugger. Dick thinks the holographic green crackleback should be outlawed! Dick's daughter, Alice, is a guide at a lodge in Montana.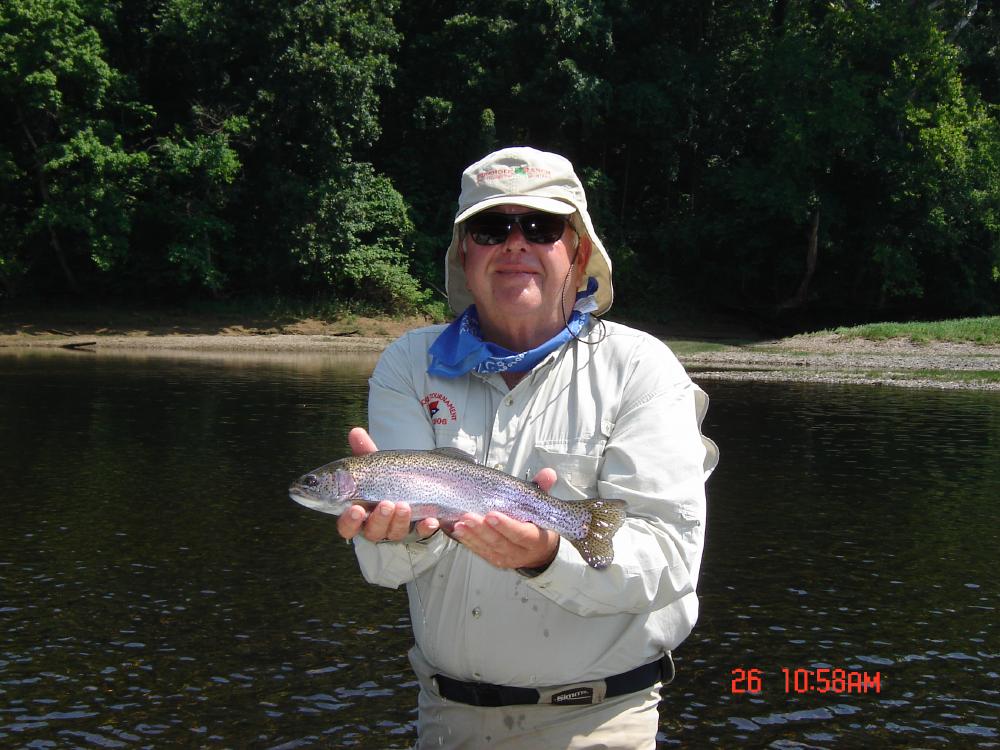 Dick – 6/26/09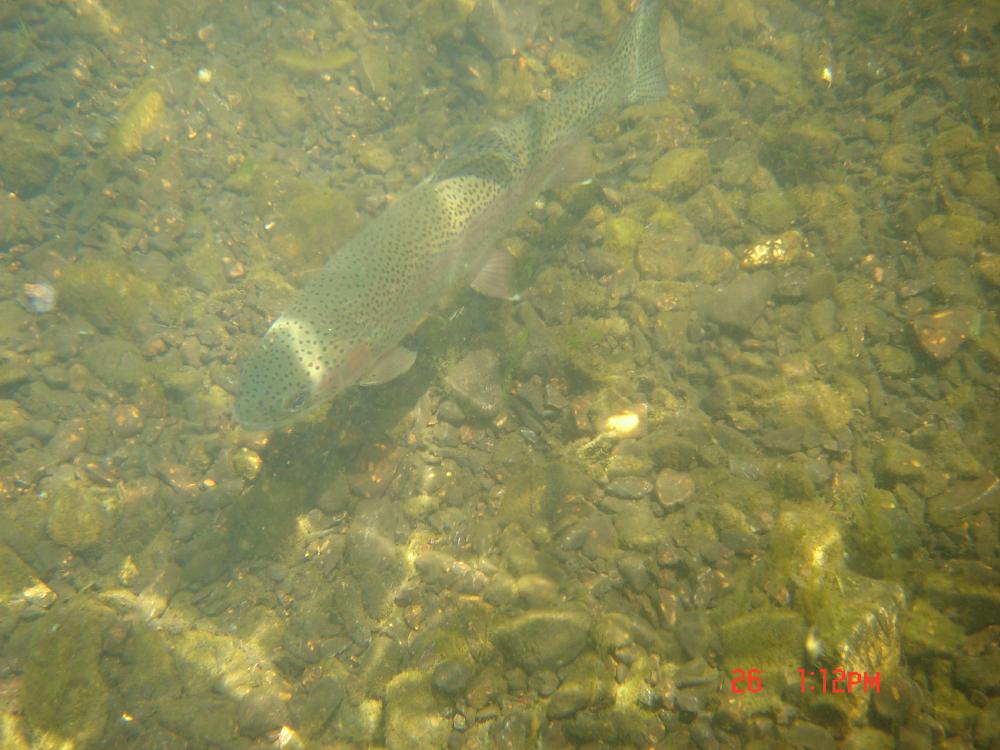 Just a Pretty Trout – 6/26/09
Saturday Mike and his wife Jerri, from California took a half-day float with Darrell. Both are new to fly fishiing and think they 'like it'! Boated lots of fish on the P&P and Pink Glitter midges. Stan had Ken and his grandson, Jordan out. A little slow for them. Boated several fish on the P&P and Holographic green crackleback. Meanwhile, Gina and Carolyn had a group of ladies on the water leaning how to roll cast, pick up and lay down cast, mend and all that other stuff you need to know to start fly fishing. These ladies were attending the one-day fly fishing clinic we offered. One of the pluses in the clinic is that we also want to hook and land fish so they can get the experience of playing the trout. Down side of that program is that once they start catching fish, it is just very hard to get them back in focus on learning the other important things such as leaders, tippets, knots, bugs, etc. Fun group and we had a good time catching fish. Best pattern was the Burgundy midge.
Today Stan and Darrell had a group of three guys, Rick, Steve and Greg from the St. Louis area out. Very good day for all of them on the copper dun midge, crackleback using the sink tip line, and the P&P. They are all good fly fishers and have been out with us several times, especially Rick. Dana had Alan and Michelle from Oklahoma out for just a couple hours. They had to check out of their room by 11:00 a.m. Boated several fish on the copper dun, olive wooly bugger, and yes, the Holographic Green Crackleback.