Sounds like a broken record…..Yes, they have been generating 24/7 for the past week. Generating between 10500 to 14500 cfs and maintaining the tailwater level in the 710.5 to as low as 708.5 (for a very brief period of time) since last Saturday. Table Rock is down to 917.8 as of this morning. However, Beaver is up to 1129.2. Beaver's flood pool is 1130.0. They will probably start releasing their water into Table Rock soon.
Every day this week they projected rain and every day we managed to get some beautiful days for trips! Several days after coming off the the water I said I would not have bet on the day not to have rain…..see what I know!
Darrell out with Al from the St. Louis area on Tuesday for half day. They pulled several fish out on the black size 18 midge dropped below the size 16 red tunghead midge.
Wednesday, Darrell had Joe from Oklahoma back again. Joe fished with us about the same time last year and probably thinks this high water is the "norm" around here. They had a good day on the olive filoplume on a sink tip and the red midge.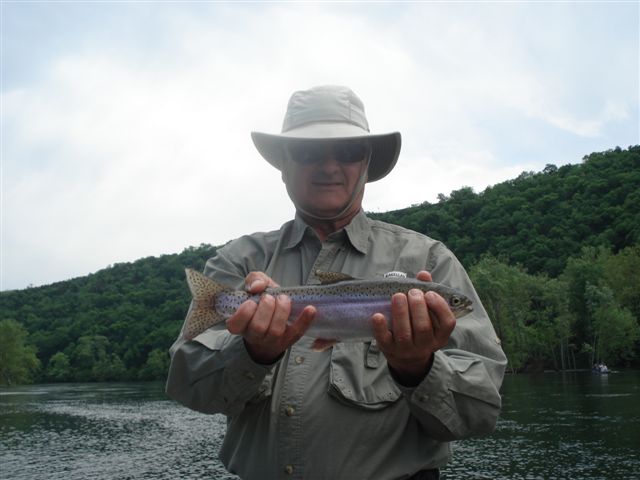 Carolyn on the water Wednesday and Thursday with Moses and Leonard from Illinois. Moses started fishing with us several years ago and brings a new person with him every time. Last year it was his son and this year, one of his best friends, Leonard. Although Leonard fishes a lot, fly fishing was brand new to him. We had a couple good days on the water with the size 16 Lightening Bug, Size 16 red tunghead midge, and the split personality San Juan worm (red on one end, hot pink on the other!)
Darrell couldn't help himself. He had to get a picture of the fog rolling along the top of the water Wednesday. Great day on the water!