Since the evening of the 23rd, they increased the amount of generation by about 3000 cfs. This raised the tailwater level from 709.0 up to 710.3 or so. That extra foot plus and heavier water has really made fishing tougher these past few days.
Wednesday Jim was on the water with one of his regular regulars, Paul from Nebraska and his friend Wayne. Their days started off slow, but they finally started pulling fish on the red midge, black size 18 midge and gray scud. Could not get any takes on any streamer patterns, but they did have a good day.
Thursday, Jim had Chris, who lives in Missouri, on the water. Chris has been fishing with Jim for several years and this was his first outting for over a year. They caught fish on pretty much the same patterns as the day before with the exception of the red San Juan worm. Water was starting to fluctuate a lot and it was one of our wonderful windy days! Tough casting. Meanwhile, Carolyn had two guys brand new to fly fishing, Mark and Rich. Mark is from PA and Rich now lives in KS. but hails originally from NJ. Fun couple of guys. Payed attention, learned a lot and even landed a few fish. Think our best flies were the red midge and the pink size 18 glitter thread midge. We are still working on a name for this pattern.
Stan had Bob and Bud, who are part of the Mark and Rich group. They caught several fish on the red midge, the pink glitter thread midge and a red San Juan worm.
Darrell's trip Thursday was tough, but what Mike from Texas didn't catch in numbers, he made up for in quality. He landed a beautiful 23-1/2 inch Rainbow on a red San Juan worm in a 1/8" tungsten bead. Their other fish during the day were caught on the red worm and an olive filoplume. By the way, these other fish during the day included one sucker!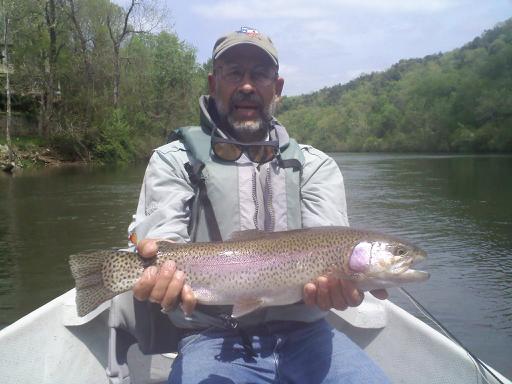 WOW! – Mike, April 23, 2009
Saturday everybody was on the water again. Darrell was out with Malcom and Dan from the St. Louis area. They brought in several fish on the red San Juan worm, and pink glitter thread midge. Carolyn has Frank and Ron from Springfield, MO on the water. They had attended a meeting at the Chateau and decided they needed to fish while they were in the area. We had to do a lot of looking and lots of changing patterns, but managed to get a fair number of fish to the boat. Frank worked on numbers and Ron worked on quality. Ron's best fish was a 17-1/2 fat Rainbow. (Nice way to say Frank caught more fish, but Ron caught the biggest!) Our best pattern was the red tungsten midge and a hot pink size 16 San Juan worm dropper.
Jim and Dana were out with a group from Lee's Summit, MO area Saturday. Jim had Dan and Ed , and Dana had Dave and his son Ben. Both boats landed a few fish and best flyes were the red midge and a red or orange San Juan worm.
Today, Stan had Ken and Kevin from Iola, KS on the water. Pretty good day, considering how tough it has been. Boated several fish, including a fat 17" Rainbow, on the red San Juan worm, size 12 olive wooly bugger and a size 12 filoplume. They fish yesterday but didn't get enough fishing, so they fished again today.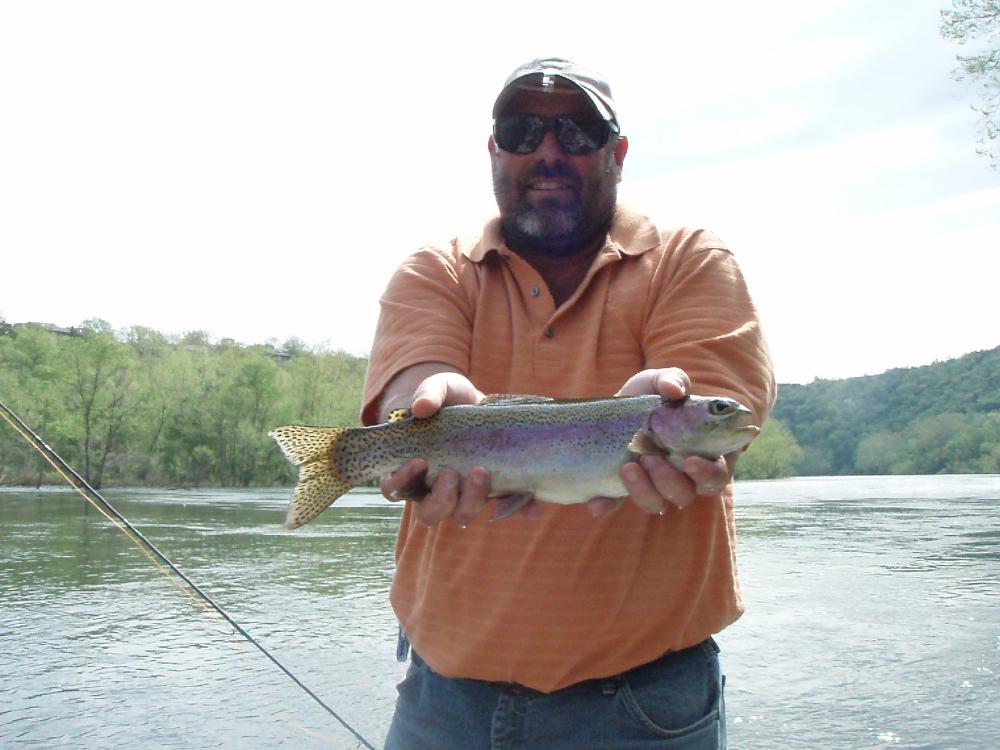 Nice fish Kevin! – April 26, 2009
Dana's trip today had a rough go. Jeff, who has fished with Dana several times, and his friend JR didn't bring many to the boat today. JR is new, and both of them missed several fish.