Water has been off most of the past six days. They ran water Monday most of the day, but after they shut it down that afternoon at 3:00, we have not seen any generation until this morning. Schedule shows generation for about three hours today then off for the balance of the day. AND, the weather is great! 48 degrees on my way into the shop this morning. Will be in the 60s today and through the weekend, although there is a chance of rain moving in Saturday evening or Sunday morning. Temps. still good.
Fishing has been good. Everyone coming into the shop is catching fish on various patterns. Stan was on the river with Philip from Indiana on Wednesday (one of the coldest days of this week). They had a fun day on the Primrose & Pearl Soft Hackle, size 18. Also caught several fish on the sink tip strippping holographic green or pumpkin cracklebacks. Other good bugs were the Primrose & Pearl midge or Black midge (size 18) fished 2 to 4 feet deep.
Darrell had Greg and Vickie from Kansas on a float. Their best fly of the day was the Primrose & Pearl size 18 midge. Although Greg caught the numbers, Vickie caught the largest.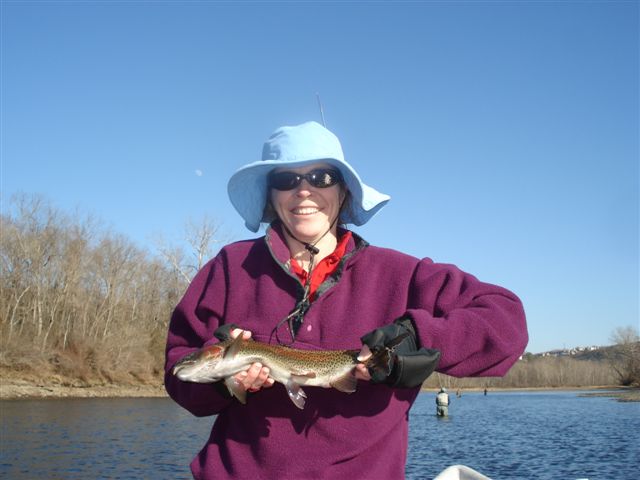 Shannon was on the water yesterday (goofing off again!) and had a great day with the holographic copper midge in a size 18. One other person also reported doing well on this midge.