Received a call from Stan yesterday while he was preparing to launch his boat. "Guess what I just saw?" he said. "What?" I responded. "A pheasant!" "Sure", I said. Well pictures don't lie. Strutting around the parking area of the Mo. Dept. of Conservation boat ramp was this beautiful cock pheasant! One never knows what they will see around here!!!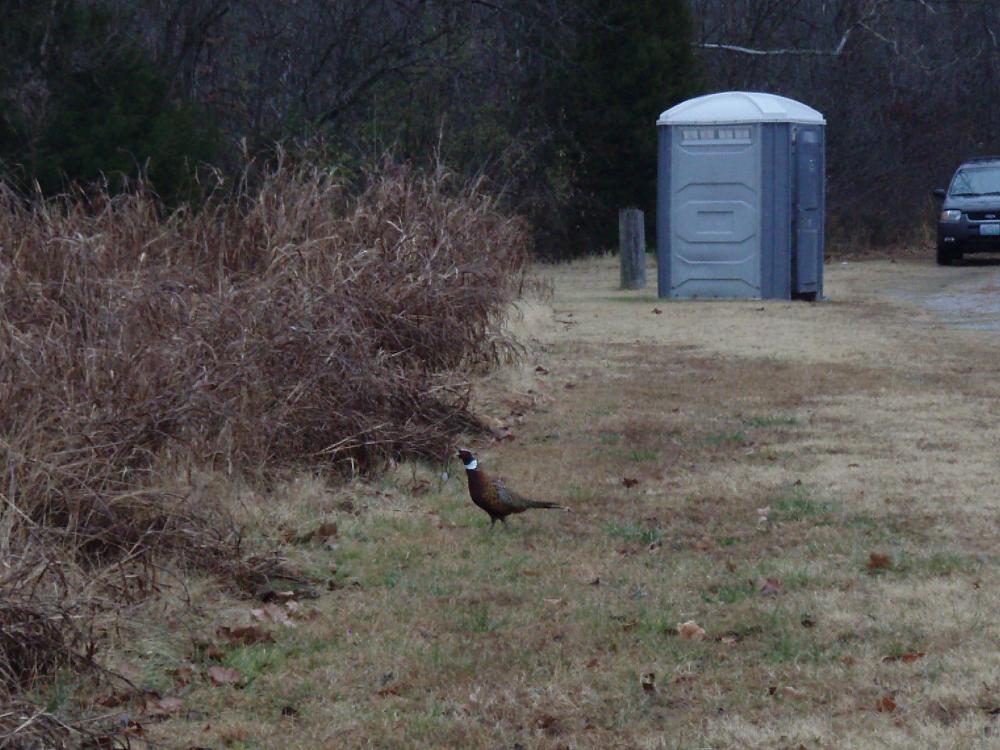 Have had boats on the water every day. Wednesday before "Turkey Day" Darrell and Dana were both out. Darrell had Brian and Lona from Texas out. They had a fun day and caught lots of fish on the copper dun midge. Dana had Dan and Daniel, also from Texas, on the water. They caught bunches of fish on a fly Dan had in his bag of tricks. A different version of a lightening bug. They also caught some on the Primrose & Pearl and Copper Dun midges.
Friday, Darrell was out with Joe and Colby. Must be Texas week as Joe is also from Texas. Their best fly was the copper dun and they had to work for them. Stan had Brandon and his mother, Brenda out again this year. This is their second year in a row for the day after Thanksgiving. Brenda beat her catch numbers from last year as well as out doing Brandon. Brandon is probably a good son and let his mother out fish him! They had a fun day and caught many of their fish on the peach fur bug.
Today Stan had Roger and his grandson Riley out. Roger and a friend had fish with Stan on Sunday before Thanksgiving. Roger had such a great time he wanted Riley to get a chance to catch some fish on a fly rod and see if he liked fly fishing….Riley likes it. Riley boated a nice 18" Rainbow (had to out do Grandpa). Best flies were the black wooly bugger in skinny water just above the old KOA area and the burgundy midge.
Lots of people fishing today. Mixed bag. Fish are spotting. If you are in the right place, good fishing. You need to move around and find where the fish are holding up.