First weekend since they started changing the generation pattern, and looks like we are getting back to normal. Friday evening they shut the water off at 9:00 p.m. and left it off until Noon on Saturday. Saturday it again was off at 9:00 p.m. and on Sunday morning at 8:00 a.m. when they turned on one generator for two hours. Off again at 10:00 for four hours, when they ran 2-3 generators until 5:00 p.m. It was off until 4:00 p.m. Monday afternoon. One generator for two hours then off again until today at 10:00 a.m. starting with two and now running four.
Jim had Leo and Steven from Springfield, MO on the water Friday. They had a good day on the black midge, blood worm dropper and orange San Juan Worm. Saturday Jim infected a couple guys from Iowa, Neil and Gene, with the fly fishing bug. Took them out and worked on casting, line work and hook sets. They even caught some fish! Best bugs for him were the Copper Dun midge, size 18; blood worm dropper, size 22 and the Ugly Midge, size 18 (this guys has been dormant for a while). Gina was out with a friend from Oklahoma, Valley, and they too picked up some fish on the Ugly Midge as well as the Red Midge, size 16, and Valley's "pre-emergers". I had to stand in the water for a while so I went out for a couple hours and did nothing but strip streamers. After I found the one they wanted and figured out how they wanted it, I did well on the size 12 olive filoplume. I was fishing this cross current with an intermediate sink tip and stripping very slowly. The takes were VERY soft. As a matter of fact, most of the time I saw my line move before I felt them and in many cases never felt them hit the fly. Stan was out with Randy from OK. Saturday. They had a good day on the Big Ugly with a black zebra midge dropper. It was pretty much 50/50 on the Big Ugly to the midge. Randy really enjoyed fishing the Big Ugly.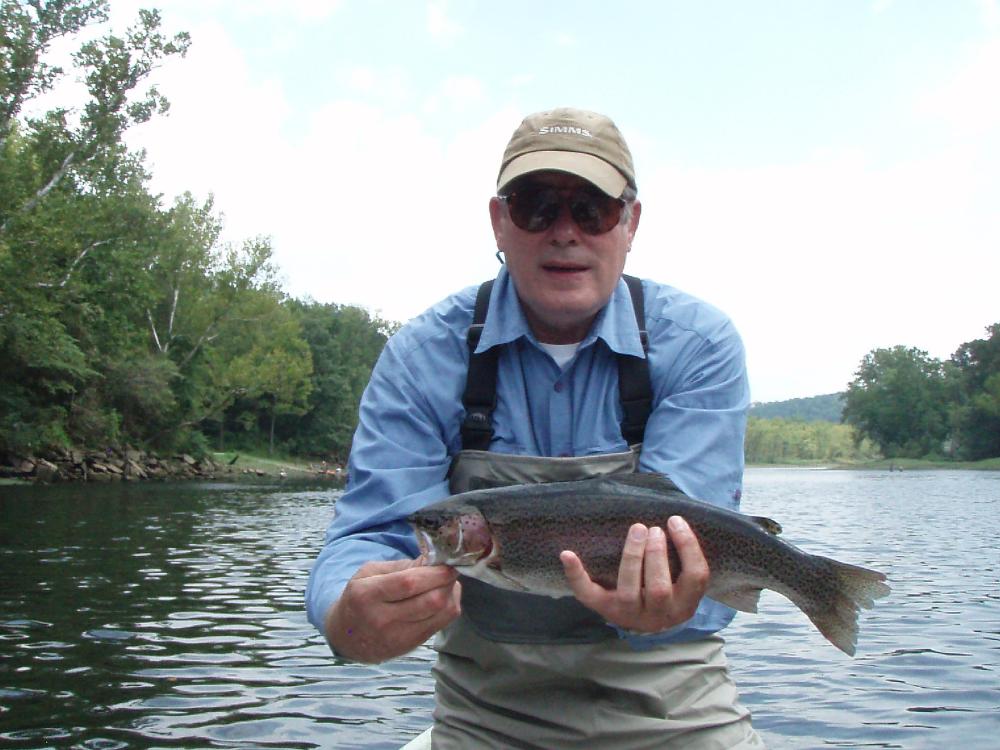 Randy – August 30, 2008
Sunday, Stan had Tom and his grandson, Jason, from Springfield out. Jason is brand new and really caught on fast. Tom was excited because he is looking for a fly fishing buddy. They had a good day on the red size 16 midge with the red San Juan dropper. Sunday was the day they were messing with the water. I had Martha from AR. and her friend Marvin from CA. We too caught them on the red midge with San Juan dropper and both Stan's boat and mine caught them on the Big Ugly with the black zebra dropper. Martha found this to be a real challenge to hook them on a dry and really liked it. Darrell had Randy from OK. back out again. He had planned to wade Sunday, but they turned on the water so he took another drift trip. Sunday was a bit tough. Hits and hook ups were not hot and heavy. One could see quite a few fish, but they were very picky on where they wanted to feed. Good news was that we all brought several fish to the boats and everyone had a good time.