It is hot out there on the water! If you're going to be out, make certain you drink lots of water and/or electrolite replacement beverages. This is the time of year we see heat exhaustion! Heat exhaustion can turn into heat stroke and that's not good. KEEP HYDRATED!!!
Darrell had Richard from Clinton, MO out Thursday. Jim was out with Sean from Columbia, MO, and Dana had Dwight and Bob from Parkville, MO. It was Missouri day. All were half day trips and everyone caught fish. Flies were the red, pink and burgundy midges, pink worm, holographic green crackleback, #6 bug eye and peach egg.
Friday Jim had Howard from Ft. Leonard Wood. They work on indicator fishing and small flies. Blood worm dropper under the copper dun and #8 bug eye. Darrell had Rhonda and her son, Wilson out for half day. They boated several fish on the burgundy #18 midge.
Saturday, almost everyone was on the water. Jim out with Paul from Texas. Bugs were the black zebra, blood midge and #8 bug eye. Darrell, Gina and Carolyn had a group from Oklahoma and Kansas City – Lewis, Terry, Ed, Gary and Kent. They went to school together and try to on a regular basis like a reunion. Decided an attempt at fly fishing might be fun for this gathering. Think we had one in the group who had fly fished before. Good day, they all learned how to get the line in the water, mend, and catch fish. The black, burgundy and red midges were working well. Also used the Big Ugly (mainly as an indicator) but the fish also took that dry. Gina had one of her guys working a sink tip and catching them on the olive wooly bugger. Stan had Lou from here and his son, Tony from CO. They did well on the black midge.
Sunday was HOT. Jim was out with David from Kansas City. He fishes a lot for various species of bass and does some saltwater fishing. Little experience with trout. David now knows a lot more about trout fishing and is ready to come back. Worked midges and pulled some streamers. Darrell had our regulars from Louisiana, Al and Dawn on the water. They had a good day on the burgundy midge and holographic green crackleback. Stan also had some regulars from Missouri, Kristi and Rick. Wonderful day, also on the burgundy midge and the black midge. Carolyn had a new little guy Eric and his father, Keith, on the water. First time for Dad but Eric had been doing a little fly fishing already. Both of them pick up the roll cast and pick up and lay down cast pretty fast. After a little work on hook setting, we started bring fish to the boat on the red and black midges. Think they are going to be fly fishers!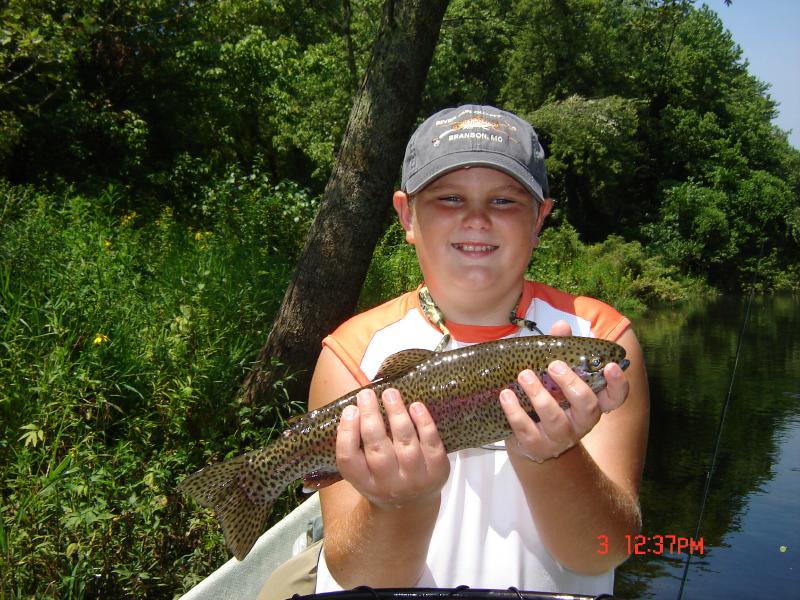 August 3, 2008 – Eric