Last Tuesday, Darrell and Jim had a party of four on the water. Darrell's boat, with Sue & Lou from Illinois, initiated the "rodeo" rule. If you stay on a bucking horse for 8 seconds, it is considered a ride……so if you keep a fish on for 8 seconds, it's considered a catch (just kidding). Jim had their friends, Matt and Holly. Holly is new to fly fishing but did land several fish. Their best bugs were the bug eyed bugger, red midge and hot pink or orange San Juans. Stan had Joe and his little dog Bear from Louisiana. They fished the pink midge, red midge and holographic green crackleback.
Wednesday, we again had three boats on the water. Jim was out with Keith and Mel from Texas. They had a good day on the bug eye bugger, hot orange San Juan and red midge. Their catch included a nice 19 inch Rainbow. Stan had Daniel and Harry from Florida. Good day on holographic crackleback using a sink tip and the peach egg pattern. Unfortunately, they lost several fish due to hooks bending. We found that with the heavy water, and using a sink tip on the cracklebacks, we should tie them on a heavier (2X Heavy) hook instead of the dry fly hook we normally tie them on. We have corrected this problem. Carolyn had Scott and his son Mitch from Oklahoma out. I had Mitch out last year and he has come a long way with his fly fishing. Our best patterns were the peach egg and the holographic green or blondie cracklebacks.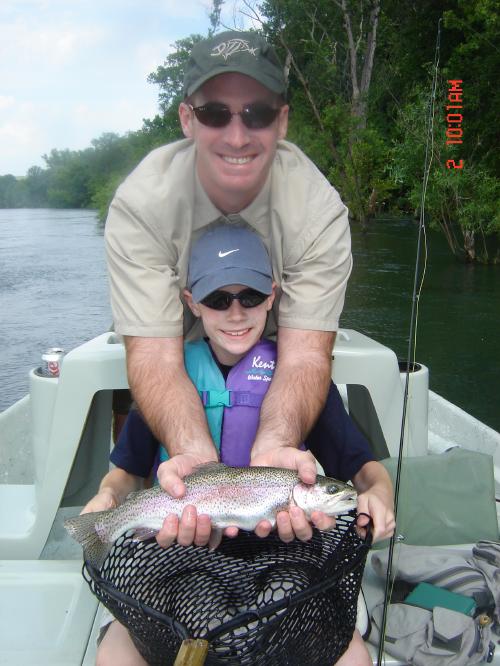 Thursday four boats out. Stan and Darrell had a group from Oklahoma. All new to fly fishing. Glen and Evan out with Stan and John and JP were with Darrell. Everyone boated some fish. Mainly on egg patterns. Jim was out with Chris from Tennessee. They had a very good day primarily on the bug eye bugger on a sink tip and some on a size 22 emerger pattern. Carolyn was out again with Mike and Trish from Texas. Another good day, once we found the fish, on the bug eyed bugger, crackle back and peach egg pattern.
Jim and Darrell were the only ones on the water Friday. Darrell had Albert and his son, James, from Louisiana out. They had a great day. Peach egg pattern and red midge. Jim had Keith and Brandi on the water. They hooked a good number of fish on rthe orange San Juan and red midge.
Saturday, a pop-up thunderstorm came through in the a.m. We had five boats scheduled to go out, but once we started seeing lightening, those of us still on solid ground, stayed and those already out came off. All the trips were half day and the heavy rain and lightening hung around a good portion of the morning and after it went through, the river looked like chocolate milk.
Sunday was a bluebird day. and four of us were on the water. Mike and Wally from Indiana, out with Jim, hit a midge hatch for about 45 minutes and caught several fish on a size 20 emerger. The rest of the time they were picking fish with the bug eyed bugger. Dana had Bob and his 11 year old grandson, Cody on the water. They caught fish on the bug eye and the hot orange San Juan. Stan took Steve from Texas on a half day trip. Steve wanted to learn and fish the sink tip. He did and he loved it. The crackleback was working very well Sunday. Carolyn had Mark and Holly from Michigan on the water. Holly is new to fly fishing and, of course, caught the largest fish. Think Mark may have boated more, but they had a good day on the bug eye and crackleback on sink tip. Did catch a few on the egg pattern. Holly was throwing a good line by the end of the trip.