For the past six days, they have kept the water level in Taneycomo at 710.5 plus or minus. With this stability in the water level, the fish had settled into predictible locations. Yesterday, at noon, they dropped the water level to 707.6 and actually shut it off for about two hours from 11:00 p.m. to midnight last night. Bugs we are fishing well with are the Bug Eyed Bugger both with a black marabou tail and the sculpin olive marabou tail. We will have these recipes on our web site shortly. We are fishing these under an intermediate up to a level III sink tip line. Also the hot orange and hot pink San Juans dropped from either a #16 red tunghead midge or the peach egg pattern. We are working seams and edges.
Jim had Bob from Penneylvania out yesterday. The worked the Bug Eyed Buggers and caught lots of nice fish. Stan had Brian (swan dive) from Florida out. He had a wonderful day! First time for Brian to strip buggers and he liked this technique. We call him swan dive as he did this graceful slide into the river yesterday when he stepped onto the slick boat ramp when getting out of the drift boat. Gina had Jim from Texas out Monday. It was Jim's first time with a fly rod and he caught on real fast. By the time the day was over, he was fishing well under an indicator as well as throwing a sink tip.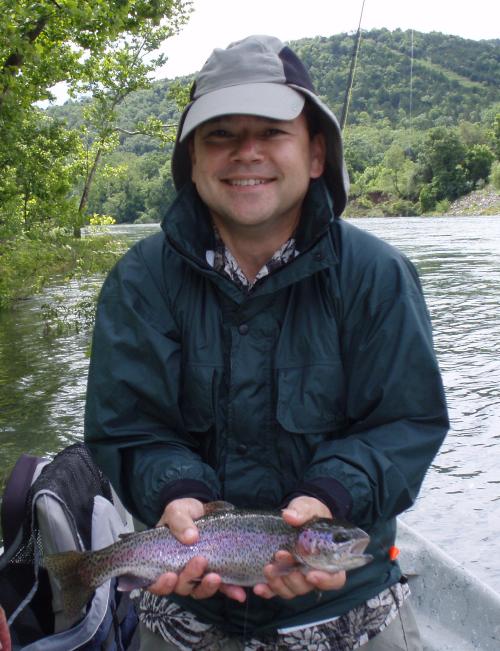 Jim – May 23, 2008
I was out with a friend, John, Monday afternoon. We had a wonderful day. The weather was perfect, good company and the fish cooperated. All we could say all afternoon was how fiesty the trout were. We only fished the Bug Eyed Bugger. John tried a few of his favorite and normally good flies, but the Bugger under a sink tip was the fly for us that afternoon.