No one could believe it was the first day of March! Sunny, warm (70s), light wind and two generators going in the a.m. Fishing was also perfect.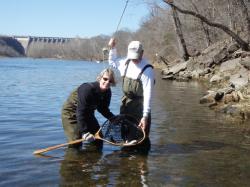 Taisha helping Dad
Stan had Taisha and her father, Jim, out for a half-day float. They set a record for his boat—29 doubles!! They had a wonderful day and lots of fun. I believe Jim described the trip as perfect. They fished the size 18 copper dun midge for the entire trip. With two generators in the morning which was cut to one late morning, it made for a nice drift. They caught fish all the way down to about 500 yards above the Fall Creek Boat Dock.
Carolyn had a brand new to fly fishing gentlemen, Steve, and his brother-in-law Jeff, out for half day. Jeff fishes here quite a bit and wanted to introduce Steve to the finer things in life. They too had a great day. Caught lots of fish. We started with the size 18 copper dun midge, but also caught several on the Primrose & Pearl as the sun got higher. After we drifted down a ways, we found a good seam so I changed Jim to a sink tip with the filoplume. He picked up several fish on that while I worked with Steve on getting his basic casting down. We then proceded to drift out. Fished the high side with the copper dun. It was catching fish pretty steady, but we changed out to the size 16 red tunghead midge and started catching at a faster pace.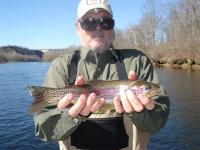 Nice Rainbow Malcolm!
Jim and Darrell were both out on full day trips. Know they both had good days. Saw some pictures of nice fish caught in the the Rockin Chair area. Darrell was fishing the filoplume and copper dun. They were out again today with the same group. We'll let you know tomorrow how they did.